Jump to:
Join Neil Gaiman and Friends Read Coraline Aloud
Neil Gaiman, Lavar Burton, Rosario Dawson, and Dakota Fanning have gotten together with the New York Public Library to read modern children's lit classic Coraline aloud in installments. Much like other moments since the crisis began, it harkens back to a time before, tuning in for a nightly radio program and the simple joy of being told a wonderful story. You can tune in to https://www.nypl.org/coraline at 6pm through Monday, May 18th to hear the latest chapters or catch up on previous ones. Watch Neil reading the first two Chapters below, and don't forget to check out NYPL's Remote Learning Resources at https://www.nypl.org/about/remote-resources/kids-and-teens for more great tools.
---
DC Kids Camp
D.C. comics launched an online book camp, D.C. Kids. Parents can follow D.C. Kids' social channels (Twitter and Instagram) to download kid-friendly, superhero-themed activities, like how-to-videos such as; draw-along with Agnes Garbowska (D.C. Super Hero Girls), origami tutorials with Gene Luen Yang (Superman Smashes the Klan), make-your-own Green Lantern ring demonstrations with Minh Lê (Green Lantern: Legacy), and "many more captivating activities!"
PRIMER Coloring Sheet!
?: @Gretlusky pic.twitter.com/Ib7F3Ky1Pa

— DC Kids (@DCComicsKids) May 11, 2020
Marvels Joe Q's Mornin' Warm Up
A must watch for fans and aspiring creators alike. Whether breaking down what makes a good comics page, or talking to creators like Jimmy Palmiotti — Joe Quesada's show is amusing and informative, no surprise from someone who's been in the business for so long. I recommend starting with #7, Storytime!
Free Comics
Here's a selection of amazing comics to read from some of comics top publishers and creators, but check out the Nerdist' round-up of 100 Free Comics to find even more.
---
Dark Horse
Sign up for a Dark Horse Account to Read Free Digital Issues for All Ages https://digital.darkhorse.com/pages/246/free-dark-horse-comics
Image
Get Hooked on a New Favorite Comic with Free First Issues from Image Comics https://imagecomics.com/comics/read-first-issues
Short Box
The curated modern comics company that delivers titles to your door is giving away comics online, starting with Emily Carroll's newest horrifying beautiful Beneath the Dead Oak Tree tale. Check it out:
Hello! We're releasing a swathe of our comics for free over the next few weeks to ease the tough time everyone's going through a little. First up: a stone-cold smash about murder & revenge, 'Beneath the Dead Oak Tree' by @emilyterrible. Download here > https://t.co/iRtawV7Giz pic.twitter.com/jY8MIxe2Q7

— ShortBox (@Short_Box) March 23, 2020
Top Cow
Check Out Free Issues at https://topcow.com/comics/free-2/
Vault Comics
First Issues for Free including Vagrant Queen https://vaultcomics.com/free-firsts/
Valiant Comics
Giving Away Free PDFs Through Twitter https://twitter.com/ValiantComics
Would you like to read (FREE) comics about:
-origin stories
-adorable assassins
-killer nun cults
-immortal brothers (& infinite bar tabs)
-magic
-action
-friendship
-did we mention the killer nun cult?

Download #1 and #2 here: https://t.co/KAlqI8Fedk#StayValiant #StayHome pic.twitter.com/gJHwzjxI22

— Valiant Comics (@ValiantComics) May 13, 2020
Brian Michael Bendis
Get an 81 Page Sampler of Acclaimed Jinxworld at https://www.dccomics.com/comics/jinxworld-sampler-2019#.XmnY5XI4qMt.twitter
Greg Pak
Free Digital Comics including The Princess Who Saved Herself and its accompanying Activity Book. Check it out at https://gregpakshop.com/
Tillie Walden
Tillie Walden's On a Sunbeam is Available for Free to Read Online at https://www.onasunbeam.com/
Gene Luen Yang
Join Gene on his Cartoon Book Tour on Instagram https://www.instagram.com/p/CAI5yQJB2k_/
Draw Together
Jarrett Lerner's Crazy Activities!
Check out author and illustrator Jarrett Lerner's Activities page, which is filled with everything from secret codes and how to draw robots, to printables for making comics and haiku diaries. There are weeks worth of fun ideas for everyone at https://jarrettlerner.com/activities/
For those more into visual demonstrations, check out Jarrett's video on how to draw ANYTHING and EVERYTHING at https://youtu.be/y1p2FaYmes8
Jarrett's also participating in Sunday HAHA, a weekly newsletter of kids comic strips. Sign up at https://sundayhaha.com/
Draw Every Day with JJK
New York Time Best Selling Author Jarrett J. Krosoczka is hosting daily art lessons on his YouTube channel. While seemingly aimed at Kids, this is fun and engaging for any age that wants to spend some time drawing with a great illustrator. There's already over 40 episodes of this series, which will provide entertainment for hours. https://www.youtube.com/studiojjk
Lunch Doodles with Mo Willems
Spend your lunch break doodling with beloved illustrator and author Mo Willems (Don't Let the Pigeon Drive the Bus) at https://www.youtube.com/watch?v=RmzjCPQv3y8
Talk About Coronavirus with Comics
CBLDF regularly posts about how comics in the classroom can create engagement, reach students with different learning styles, and make concepts accessible to everyone. Now, you can use comics to talk about this crisis with your students or kids at home. Here are a couple to start with, but for more check out https://www.slj.com/?detailStory=comic-relief-free-resources-on-covid-19-coronavirus-graphic-novels-webcomics
Just for Kids
NPR Editor and creator of I Was Their American Dream: A GRAPHIC MEMOIR, Malaka Gharib, created a comic for kids about Coronavirus available in English, Spanish, and Chinese. You can read it online https://www.npr.org/sections/goatsandsoda/2020/02/28/809580453/just-for-kids-a-comic-exploring-the-new-coronavirus or there are instructions on printing it out and folding it into a zine.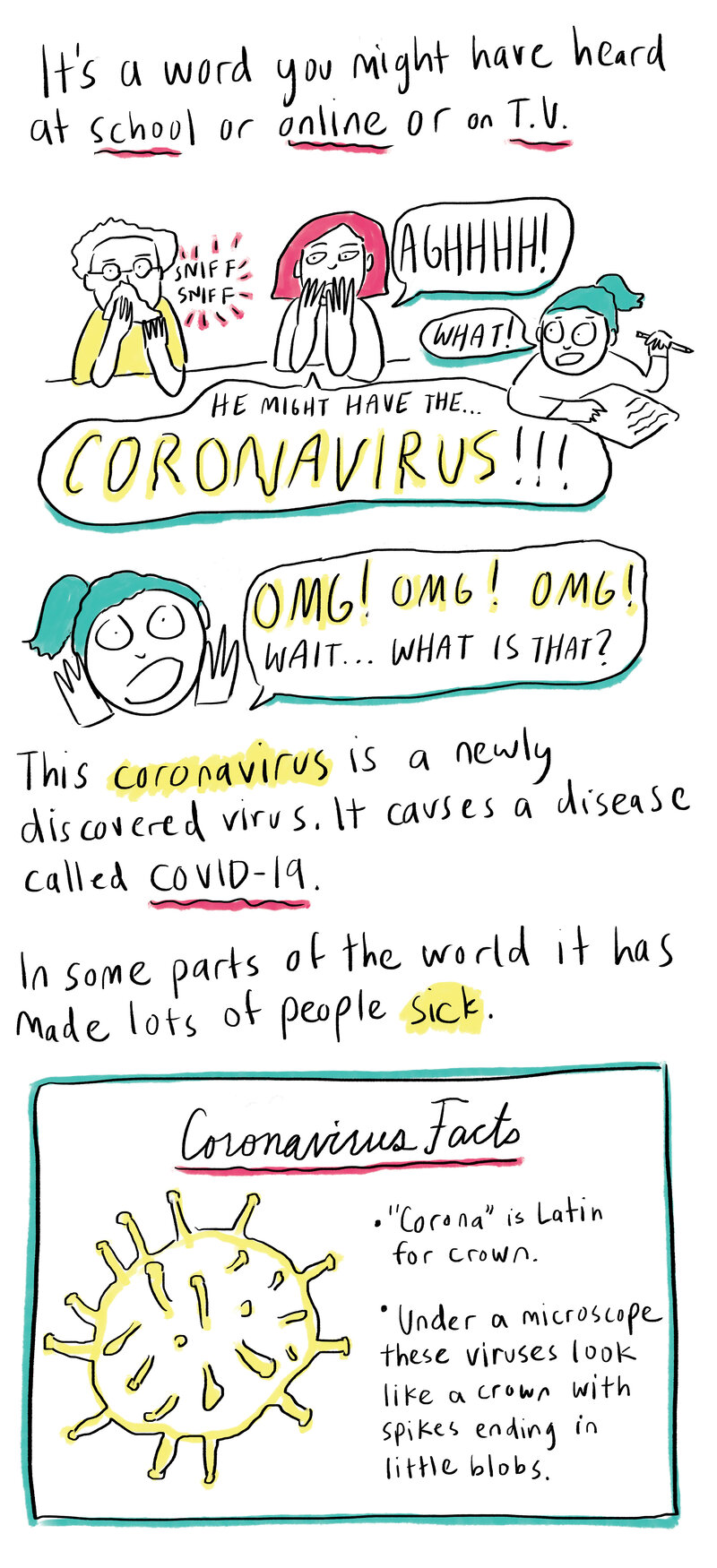 Hand Washing to Frere Jacques
From Cartoonist Lucy Knisley, this kids' guide to handwashing goes into way more fun detail than the memes that pervaded the internet in the early days of the crisis. A potential downside could be humming the french children's song all-day, but who are you still trying to impress at your house?
Coronavirus PSA: How to Fight the New Bad Guy in Town by Jason Reynolds
Join Jason Reynolds, the National Ambassador for Young People's Literature and author of banned and challenged books like All American Boys, give kids and grownups tips for fighting germs at home, and a recipe for homemade hand sanitizer. This PSA is from the Story Seeds Podcast, which puts kids with authors to brainstorm and write amazing stories, and ends each episode with a story from the author! You can check out more at https://the-story-seeds-podcast.simplecast.com/
More Resources for Teachers
Jim McLain retired this past January after 32 years of teaching Math in Indiana with the hope of traveling the country and talking about his Math comics. That plan is currently out the window, so he is generously offering his math comic, Solution Squad, as a free PDF for educational use, with daily math lessons to go with it.
Jim's not the only one to realize how crucial these tools can be, so after you sign up for CBLDF's new League of Graphic Novel Educators, check out these awesome resources and aggregates for even more cool things to do with kids remotely.
Free Educational Resources for all ages from Tracy Edmunds
http://www.tracyedmunds.com/ (Make sure you check out the panel from WonderCon featuring CBLDF's Betsy Gomez as moderator and a ton of great links and resources.)
History Comics & Comics in Education from Tim Smyth http://www.historycomics.net/free-comics-1
Teacher & Librarian Guides from Random House https://www.rhteacherslibrarians.com/
AMP Kids imprint Teaching Guides and Activities https://www.ampkids.com/resources/
Apple Education has made its ebooks and accompanying Teacher Guides available for free for a limited time including Everyone Can Create Drawing, Everyone Can Code Puzzles and many more titles. These are great for a variety of ages and offer lessons that can be applied to a class or done solo. Check them out in iBooks or at https://books.apple.com/us/author/apple-education/id939801385