As the demonstrations occurring across the country prove, free expression makes an important difference in affecting positive social change. We've created this reading list of comics addressing themes of anti-racism and the African American experience as a starting point to help parents and educators continue the important discussions in the days and weeks ahead.
This post also includes resources to help frame teaching opportunities in the classroom and beyond. First, we offer Profiles in Black Cartooning, spotlighting comics creators and cartoonists who made significant historical contributions to free expression. Finally, we provide video of webinars that provide teaching strategies and insights.
Fiction is the first draft of policy — these graphic novels are helpful for creating understanding and visualizing solutions. Use them to start discussions, and encourage students to make their own stories in response that articulate what a more just, equitable, and moral world looks like. If we can imagine a better world, then we can make a better world.
Realistic Fiction
I Am Alfonso Jones by Tony Medina, Stacy Robinson & John Jennings
SYNOPSIS from publisher's website:
Alfonso Jones can't wait to play the role of Hamlet in his school's hip-hop rendition of the classic Shakespearean play. He also wants to let his best friend, Danetta, know how he really feels about her. But as he is buying his first suit, an off-duty police officer mistakes a clothes hanger for a gun, and he shoots Alfonso.
When Alfonso wakes up in the afterlife, he's on a ghost train guided by well-known victims of police shootings, who teach him what he needs to know about this subterranean spiritual world. Meanwhile, Alfonso's family and friends struggle with their grief and seek justice for Alfonso in the streets. As they confront their new realities, both Alfonso and those he loves realize the work that lies ahead in the fight for justice.
In the first graphic novel for young readers to focus on police brutality and the Black Lives Matter movement, as in Hamlet, the dead shall speak— and the living yield even more surprises.
Incognegro by Mat Johnson & Warren Pleece
SYNOPSIS from publisher's website:
This tenth anniversary edition of the acclaimed and fearless graphic novel features enhanced toned art, an afterword by Mat Johnson, character sketches, and other additional material.
In the early 20th Century, when lynchings were commonplace throughout the American South, a few courageous reporters from the North risked their lives to expose these atrocities. They were African-American men who, due to their light skin color, could "pass" among the white folks. They called this dangerous assignment going "incognegro."
Zane Pinchback, a reporter for the New York-based New Holland Herald, is sent to investigate the arrest of his own brother, charged with the brutal murder of a white woman in Mississippi. With a lynch mob already swarming, Zane must stay "incognegro" long enough to uncover the truth behind the murder in order to save his brother — and himself. Suspenseful, unsettling and relevant, Incognegro is a tense graphic novel of shifting identities, forbidden passions, and secrets that run far deeper than skin color.
Monster: A Graphic Novel by Walter Dean Myers, Guy A. Sims & Dawud Anyabwile
SYNOPSIS from publisher's website:
Monster is a multi-award-winning, provocative coming-of-age story about Steve Harmon, a teenager awaiting trial for a murder and robbery. As Steve acclimates to juvenile detention and goes to trial, he envisions how his ordeal would play out on the big screen.
Guy A. Sims, the acclaimed author of the Brotherman series of comic books, collaborated with his brother, the illustrator Dawud Anyabwile, in this thrilling black-and-white graphic novel adaption of Monster.
Monster was the first-ever Michael L. Printz Award recipient, an ALA Best Book, a Coretta Scott King Honor selection, and a National Book Award finalist. Monster is also now a major motion picture called All Rise starring Jennifer Hudson, Kelvin Harrison, Jr., Nas, and A$AP Rocky.
Fans of Monster and of the work of Walter Dean Myers — and even kids who think they don't like to read — will devour this graphic adaptation.
New Kid by Jerry Craft
SYNOPSIS from publisher's website: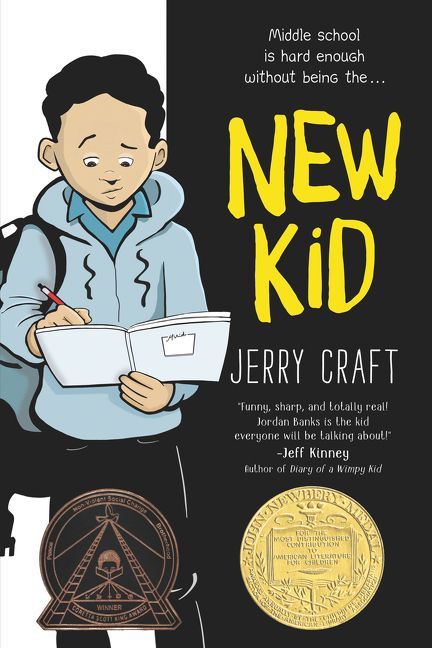 Seventh grader Jordan Banks loves nothing more than drawing cartoons about his life. But instead of sending him to the art school of his dreams, his parents enroll him in a prestigious private school known for its academics, where Jordan is one of the few kids of color in his entire grade.
As he makes the daily trip from his Washington Heights apartment to the upscale Riverdale Academy Day School, Jordan soon finds himself torn between two worlds — and not really fitting into either one. Can Jordan learn to navigate his new school culture while keeping his neighborhood friends and staying true to himself?
Winner of the Newbery Medal, Coretta Scott King Author Award, and Kirkus Prize for Young Readers' Literature
Memoir
Your Black Friend by Ben Passmore
SYNOPSIS from publisher's website:
Ben Passmore's necessary contribution to the dialogue around race in the United States, Your Black Friend is a letter from your black friend to you about race, racism, friendship, and alienation.

Inspired by Frantz Fanon's White Skin, Black Masks, Your Black Friend is just as direct, immediate, and necessary as Ta-Nehisi Coates' Between the World and Me and Claudia Rankine's Citizen.
Read the full comic book here: https://www.silversprocket.net/2017/09/19/ben-passmores-your-black-friend-wins-ignatz-brick-for-outstanding-comic/
Hot Comb by Ebony Flowers
SYNOPSIS from publisher's website:
Hot Comb offers a poignant glimpse into Black women's lives and coming of age stories as seen across a crowded, ammonia-scented hair salon while ladies gossip and bond over the burn. The titular story "Hot Comb" is about a young girl's first perm — a doomed ploy to look cool and to stop seeming "too white" in the all-black neighborhood her family has just moved to. In "Virgin Hair" taunts of "tender-headed" sting as much as the perm itself. It's a scenario that repeats fifteen years later as an adult when, tired of the maintenance, Flowers shaves her head only to be hurled new put-downs. The story "My Lil Sister Lena" traces the stress resulting from being the only black player on a white softball team. Her hair is the team curio, an object to be touched, a subject to be discussed and debated at the will of her teammates, leading Lena to develop an anxiety disorder of pulling her own hair out. Among the series of cultural touchpoints that make you both laugh and cry, Flowers recreates classic magazine ads idealizing women's needs for hair relaxers and product. "Change your hair form to fit your life form" and "Kinks and Koils Forever" call customers from the page.

Realizations about race, class, and the imperfections of identity swirl through Flowers' stories and ads, which are by turns sweet, insightful, and heartbreaking. Flowers began drawing comics while earning her PhD, and her early mastery of sequential storytelling is nothing short of sublime. Hot Comb is a propitious display of talent from a new cartoonist who has already made her mark.
Speculative Fiction
Kindred: A Graphic Novel Adaptation by Octavia E. Butler, Damien Duffy & John Jennings
SYNOPSIS from publisher's website:
More than 35 years after its release, Kindred continues to draw in new readers with its deep exploration of the violence and loss of humanity caused by slavery in the United States, and its complex and lasting impact on the present day. Adapted by celebrated academics and comics artists Damian Duffy and John Jennings, this graphic novel powerfully renders Butler's mysterious and moving story, which spans racial and gender divides in the antebellum South through the 20th century.
Butler's most celebrated, critically acclaimed work tells the story of Dana, a young black woman who is suddenly and inexplicably transported from her home in 1970s California to the pre–Civil War South. As she time-travels between worlds, one in which she is a free woman and one where she is part of her own complicated familial history on a southern plantation, she becomes frighteningly entangled in the lives of Rufus, a conflicted white slaveholder and one of Dana's own ancestors, and the many people who are enslaved by him.
Held up as an essential work in feminist, science-fiction, and fantasy genres, and a cornerstone of the Afrofuturism movement, there are over 500,000 copies of Kindred in print. The intersectionality of race, history, and the treatment of women addressed within the original work remain critical topics in contemporary dialogue, both in the classroom and in the public sphere.
Frightening, compelling, and richly imagined, Kindred offers an unflinching look at our complicated social history, transformed by the graphic novel format into a visually stunning work for a new generation of readers.
The Black Mage by Daniel Barnes and D.J. Kirkland
SYNOPSIS from publisher's website:
Harry Potter meets Final Fantasy in this subversive original graphic novel where race, history and magic collide.
When St. Ivory Academy, a historically white wizarding school, opens its doors to its first-ever black student, everyone believes that the wizarding community is finally taking its first crucial steps toward inclusivity. Or is it? When Tom Token, the beneficiary of the school's "Magical Minority Initiative," begins uncovering weird clues and receiving creepy texts on his phone, he and his friend, Lindsay, stumble into a conspiracy that dates all the way back to the American Civil War, and could cost Tom his very soul.
Bitter Root by David F. Walker, Chuck Brown & Sanford Greene
SYNOPSIS from publisher's website:
In the 1920s, the Harlem Renaissance is in full swing, and only the Sangerye Family can save New York — and the world — from the supernatural forces threatening to destroy humanity. But the once-great family of monster hunters has been torn apart by tragedies and conflicting moral codes. The Sangerye Family must heal the wounds of the past and move beyond their differences… or sit back and watch a force of unimaginable evil ravage the human race.
BTTMFDRS by Ezra Claytan Daniels & Ben Passmore
SYNOPSIS from publisher's website:
Once a thriving working-class neighborhood on Chicago's south side, the "Bottomyards" is now the definition of urban blight. When an aspiring fashion designer and her image-obsessed BFF descend upon the hood in search of cheap rent, they discover something far more seductive… and deadly.
Gentrification and body horror collide in this brutal satire from the award-winning creators of Upgrade Soul and Your Black Friend.
Black by Kwanza Osajyefo, Tim Smith 3, and Jamal Igle
SYNOPSIS from publisher's website:
In a world that already hates and fears them – what if only Black people had superpowers.

After miraculously surviving being gunned down by police, a young man learns that he is part of the biggest lie in history. Now he must decide whether it's safer to keep it a secret or if the truth will set him free.
History
These historical graphic novels also include detailed lesson plans as part of CBLDF's Using Graphic Novels in Education series.
Using Graphic Novels in Education: King
King by Ho Che Anderson (Fantagraphics, 1993; reprint edition 2010) is a highly acclaimed award-winning biography that integrates interviews, narrative, sketches, illustrations, photographs and collages as it pieces together an honest look at the life, times, tragedies, and triumphs of Martin Luther King Jr. For King, Anderson won the Harvey Awards for Best New Talent (1991); Best Graphic Album (1993); and Parents' Choice Award (1995).
March Book One
MARCH: Book One begins the trilogy of Representative John Lewis's graphic novel memoir, co-written with his aide Andrew Aydin and illustrated by Nate Powell. It is a critically acclaimed best-seller that received the 2013 Coretta Scott King Honor Book Award by the American Library Association and has been named one of the best books of 2013 by USA Today, The Washington Post, Publishers Weekly, Library Journal, School Library Journal, Kirkus Reviews, The Horn Book, ComicsAlliance, and others.
March Book Two
MARCH: Book Two is the second volume of Representative John Lewis's graphic novel memoir, co-written with his aide Andrew Aydin and illustrated by Nate Powell. March: Book Two details the real-life heroes of the 1960s, from the Civil Rights leaders of SNCC and the SCLC to the black and white protesters who risked life and limb for what was right. In Book Two, Lewis's story continues with the events that took place on November 10, 1960, in Nashville, Tennessee, as "…our young organization had successfully ended segregation at the lunch counters downtown and turned its attention to fast food restaurants and cafeterias using the same strategy." It then continues with events that took place in the South between 1960 -1963, culminating with the March on Washington on August 28, 1963.
March Book Three
MARCH: Book Three brilliantly and sensitively concludes Representative John Lewis' story while documenting Americans' struggle for equal rights and civil liberties. Through all three volumes of March, readers read, see, and feel those struggles first hand. Furthermore, while each part of the trilogy tells a continuing story, they can each stand on their own as solid stories and historical resources. Alone and together, these three volumes relay the struggles, the pains, and the hopes of Black and White Americans in the early 1960s, while highlighting some of this country's greatest modern heroes.
NAT
Kyle Baker's Nat Turner received the Glyph award for Best Artist, Best Cover, and for Best Story of the Year, 2006; the Eisner Award for Best Reality-Based Work, 2006; and the Harvey Award for Best Graphic Album — Previously Published, 2009. This work also received an Eisner Award nomination for Best Limited Series, 2006; and Harvey Award nominations for Best Writer, Best Artist and Best Single Issue or Story, 2009. Library Journal gave it a starred review noting, "Baker's suspenseful and violent work documents the slave trade's atrocities as no textbook can, with an emotional power approaching that of Maus."
THE SILENCE OF OUR FRIENDS
The Silence of Our Friends by Mark Long, Jim Demonakos and Nate Powell (First Second Books, 2012) is a semi-autobiographical story told from the perspective of Mark Long, as a boy. It centers around civil rights incidents covered by his father, a television reporter in Houston, Texas, in 1968, following the Texas Southern University student boycott after the Student Nonviolent Coordinating Committee (SNCC) was banned from campus. It ends with Dr. King's assassination and the mourning of the larger Houston community as they marched in his memory.
Cartoonist Profiles
Created in partnership with Black Nerd Problems, CBLDF offers profiles of Black comics creators and cartoonists who made significant contributions to free expression.
Zelda Jackson Ormes, better known as Jackie, was the first African American woman to make a living as a cartoonist. Between 1937 and 1955, her strips were syndicated extensively nationwide in the Black press, featuring Black women front and center in roles and social situations they were never accorded in the mainstream media of the day.
Ormes got her start in journalism while she was still in high school, reporting for the Pittsburgh Courier, which had nationwide distribution. For her first assignment she covered a boxing match — with the Courier's sports editor as a chaperone since "I was just a punk," she said later. She relished the excitement of the news business, recalling in an interview that she "had a great career running around town looking into everything the law would allow, and writing about it." Read the full profile
---
Black History Month has become a multifaceted parade of Black greatness in all of my social media feeds — first Black man to do this; first Black woman to do that. This is our community stepping in to share a history most of us didn't learn in school, and highlighting trailblazers who brought us to the multicultural world developing around us. In that spirit, I approached learning more about Richard Eugene "Grass" Green — a pioneering fan and cartoonist whose work started in the 1960s and continued until his death in 2002. Read the full profile
---
If you were to call Orrin C. Evans bold in the pursuits he enjoyed in his life, it would be like saying the monuments in Egypt are bigger than average. More than that, Evans' life work wasn't so much being bold as it was surviving the best way he knew how. A man whom The New York Times proclaimed "The Dean of Black Reporters," Evans rose to a position of becoming one of the first comic book writers as an outsider to comics himself and stepped into a limelight that had scarcely seen his like. Read the full profile
---
In the 1940s and 1950s, Clarence Matthew Baker — best known as Matt Baker — was widely regarded as the master of the "good girl" style and is credited as the first successful Black comic book artist in the comics industry.
From Phantom Lady (Fox Features Syndicate, 1947) and Canteen Kate (St. John, 1952), to what many consider the first graphic novel, It Rhymes with Lust (St. John, 1950), Baker's fun-loving, glamorous gals and classy, statuesque women could be seen on every newsstand across the United States (and most likely in many G.I. quarters overseas). Although, Baker was celebrated in the comics community for his strikingly beautiful and more anatomically correct portrayals of women, his art would also become one of the primary targets in the crusade against comics and in the infamous Dr. Fredrick Wertham's 1954 book Seduction of the Innocent. Read the full profile
---
One of the most complicated truths about Black History Month is this: while celebrating means being able to feel pride in our rich culture, it also often means discovering just how many important historical figures continue to be erased from public consciousness. For instance, although she was the first African American woman to publish a nationally syndicated comic strip, Barbara Brandon-Croft's incredible impact with her all-Black-women strip, unfortunately, does not get nearly the recognition she deserves. Years before comics like Aaron McGruder's The Boondocks became one of the most recognizably Black comic strips with important political commentary, Brandon-Croft's Where I'm Coming From reclaimed the funnies as a space where Black women's voices could be represented and amplified. Read the full profile
---
This is the story of a mild-mannered accountant, Bertram A. Fitzgerald, who unexpectedly became a pioneer in comics publishing. At a time when the field of African American Studies was largely confined to academia, Fitzgerald saw the pedagogical potential of both the comics format and Black history as a means to engage youth who had seldom seen themselves reflected in their history books. Read the full profile
---
What do you think of when you hear the name Aaron McGruder? To most fans, the mention instantly brings to mind Huey and Riley Freeman, characters from his politically charged comic strip turned smash hit cartoon, and rightfully so. His most recognizable series, The Boondocks is also one of the most recognizably Black works in popular media. "It's South Park for Black people," I heard it explained, more than once. But put that aside for a moment, as if we're playing a game of Taboo and each Boondocks character is on the list of words you can't say. What do you think of when you hear Aaron McGruder? Read the full profile
---
Over a more than 30-year career, Kyle Baker has seemingly made his mark in every corner of mass media, from Cartoon Network to The New York Times. But it's in the comics world that his boundless creative energy has truly taken flight, whether he's reimagining existing characters or creating them anew. Read the full profile
---
Larry Fuller — a.k.a. A. Christian White — with his quick wit, eye for innovation, and keen sense of opportunity is regarded as one of the indisputable kings of the 1970s underground comix movement. From Ebon to White Whore Funnies, Fuller wrote comics, drew comics, published comics, and would become one of the premier businessmen in an industry characterized by its fast, loose, and decidedly un-business-like attitude that arose out of the aftermath of the 1954 Comics Code. Fuller's ability to effectively use satire to comment upon social issues such as race and sexuality would make him an influential and important icon not only in the Black, but also the LGBTQ comics communities. Read the full profile
---
The push for diversity is a discussion that has gained much traction in recent years. We are starting to see more artists of color taking more routes to promote and produce stories about Black characters and other characters of color. In return, there has also been a resounding response from the readers, an audience that wanted more diversity in the comic books they've been buying for years on end. We are at a point where change is being made. Read the full profile
---
Video & Webinar Resources
Teaching Tolerance & Understanding with Gene Luen Yang — In this webinar, Gene Luen Yang draws from his career as a celebrated author, ambassador, and teacher to address how comics can help students attain a broader view of the world, experience deeper empathy and understanding about complex issues, and how teachers and librarians can respond to challenges to comics and overcome barriers to using them.
---
Using Comics to Teach Tough Topics — Many educators and librarians feel raising social awareness is an important educational objective, but helping young audiences come to terms with the difficult topics and complex concepts associated with social awareness can be challenging. Comics and graphic novels are great tools for addressing tough social issues like bullying, abuse, suicide, and racism; however, graphic novels and other books that depict tough topics may encounter resistance from parents, administrators, and even fellow teachers. Join CBLDF and a panel of comics creators, publishers, retailers, and educators to learn how comics are a powerful tool for helping young people understand the more difficult parts of growing up. In this program, we will present fresh ideas for using comics to teach social justice, identity, and freedom of expression; suggest titles that address the tough topics affecting young people, including discrimination, bullying, racism, and disability; and provide strategies for addressing the challenges that may arise when incorporating these comics into course curriculum.
---
Title Pairings for March & King
Tony Weaver, Jr., CEO and Founder of Weird Enough Productions, encouraged educators to bridge the gap for students who are reluctant to read non-fiction titles, like March and King, by incorporating fiction titles with similar themes. Here's a clip of his suggestions:
CBLDF is a non-profit organization that needs your help during these difficult times! Help support CBLDF's important work by sharing this article. You can also donate to support our efforts by visiting the Rewards Zone, making a donation, or becoming a member of CBLDF!